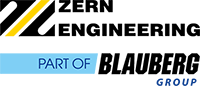 ZERN ENGINEERING manufactures heat exchangers and is an integral part of Blauberg Group. We started as a small in-house heat exchangers supplier used
only for production needs of Blauberg Group. Nowadays, Zern Engineering has turned into the manufacturer of a comprehensive
range of heat exchangers, which are sold to customers worldwide.
Putting our clients' interests first, we are constantly doing our best to offer them the finest combination of quality and price on the market.